El Camino Real : The Royal Road
Welcome
Guest!

Would you like to log yourself in?
Pictorial Lives of the Saints
Many devout souls choose a patron saint for each month, in whose honor they cultivate a certain virtue. They also practice a particular devotion each month.
Featured Products
Litany Card Game
$10.00
St. Pius V (1566-1572) by Robin Anderson
$7.95
$7.16
Save: 10% off
The Blessed Eucharist by Rev. Fr. Michael Mueller C.SS.R.
$13.95
$12.56
Save: 10% off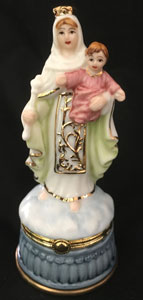 Statue - Our Lady of Mount Carmel with box
$25.00
$20.00
Save: 20% off
The Angels by Rev. Fr. Pascale Parente
$16.95
$11.87
Save: 30% off
Monthly Specials For December
Tales of Foreign Lands: Volume 1
$15.95
$14.36
Save: 10% off
Retreat Manual and Family Prayer Book
$6.95
$6.26
Save: 10% off
Rules For Discerning Spirits
$5.95
$4.46
Save: 25% off
Greeting Card - Sacred and Immaculate Heart - blank
$2.95
$2.66
Save: 10% off
Mass Card for the Deceased
$2.95
$2.66
Save: 10% off
Tales of Foreign Lands: Volume 2
$15.95
$14.36
Save: 10% off
Greeting Card - Our Lady of Grace - blank
$2.95
$2.66
Save: 10% off
Tales of Foreign Lands: Volume 3
$15.95
$14.36
Save: 10% off
Greeting Card - St. Joseph - blank
$2.95
$2.66
Save: 10% off